Being used at almost all construction projects, concrete is now produced at concrete plants with precise weighing and high mixing technology. Aggregate, cement, water and additives are weighed precisely at weighing scales in accordance with the concrete recipes determined as per previous laboratory tests and are mixed homogeneously by high efficiency fast concrete mixers to produce high quality concrete.
In the past, all the concrete plants were making production as stationary concrete plants, and even the smallest ones could be installed in a certain period of time after transporting with four to five trucks; such stationary plants were producing concrete in the same place for many years. The increase in both the number of construction projects and the amount of concrete required in these projects, as well as the need to complete these projects in a short time, have led construction companies to produce the concrete they need for their projects.
In the course of the time, the construction companies needed mobile concrete plants, that are more flexible, easier to transport and easier to install than stationary concrete plants, because they needed to transfer their plants from one place to another as they completed their projects. Mobile concrete plants have been designed to satisfy these needs.
A Mobile Concrete Plant consists of the same units as in a stationary concrete plant, where these units are fixed on a chassis with axles and wheels. When this chassis is towed by a truck tractor, the mobile concrete plant can easily be transported.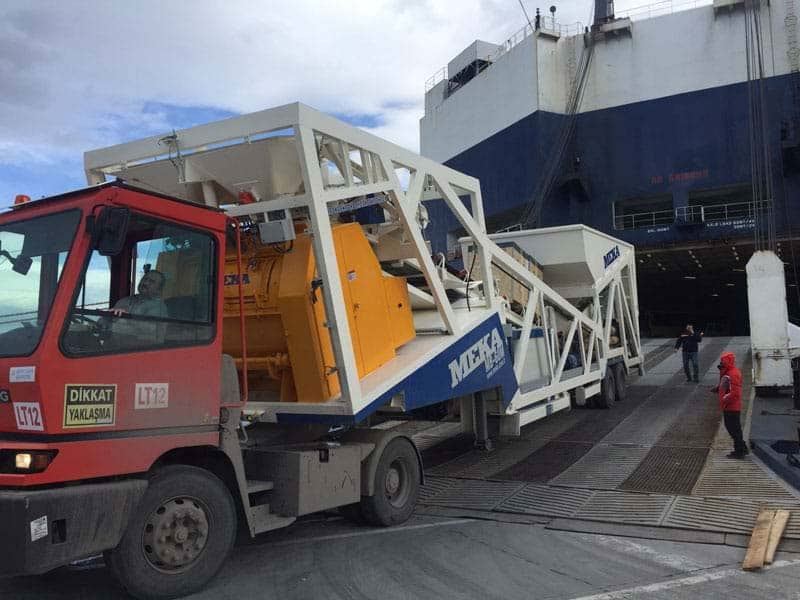 What are the Advantages of Mobile Concrete Plants?
When compared to stationary concrete plant, Mobile Concrete Plant offer the following advantages to its users:
1- Easier to transport. The main unit of a Mobile Concrete Plant can be transported by a truck tractor.
2- Faster and easier installation, disassembling and translocating. Flexibility.
3- Less installation space. Installable within the project area.
4- Less concrete foundation requirement. Installable on a flat concrete floor.
5- Easier installation permission. In some cases, no permission is required.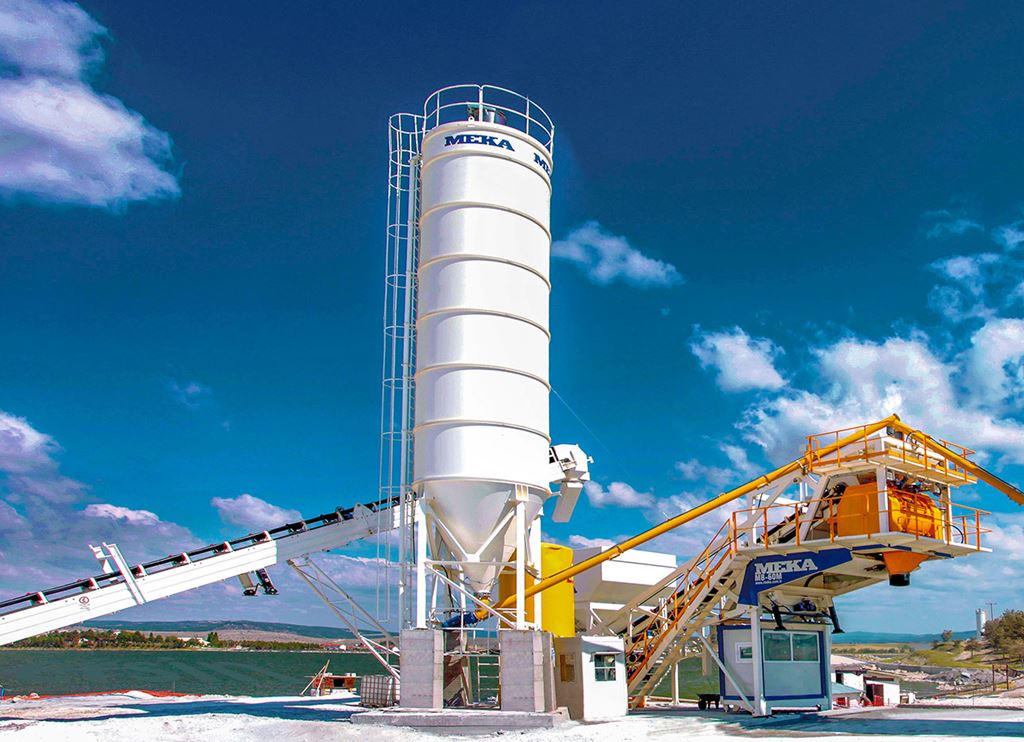 The abovementioned advantages allow project-based construction companies to have great flexibility and to make significant savings in their total costs. Mobile Concrete Plants are mostly preferred by construction companies for their project-based works.
Where to Use Mobile Concrete Plants
Mobile Concrete Plants are the product of a sophisticated engineering work. All units are placed in a smaller area through aesthetic design. They are also preferred by ready mixed concrete companies for major construction projects to which they supply concrete, by establishing a mobile concrete plant within the area of a project to make concrete production only for that project.
Before the Mobile Concrete Plants, construction companies were providing concrete from ready-mixed concrete companies if there is any near the project area, or they were establishing a stationary concrete plant for their project. However, in some countries and for some projects, this procurement way increased the costs of the construction companies as well as caused them not to supply high-quality concrete on time.
Various types of Mobile Concrete Plants offer appropriate solutions for any projects, allowing all construction companies to be more independent and more flexible regarding the concrete production for their projects.
Features of Mobile Concrete Plant
An aggregate hopper where the aggregate is stored, an aggregate weighing conveyor on which the aggregate is weighed, a cement-weighing scale, a water-weighing scale, a chemical-weighing scale and a concrete mixer for mixing all these materials homogeneously and quickly are placed on the main unit.
Axles and wheels are placed on the back of the main unit. The truck tractor can be attached to the king pin located at the front of the main unit and can transport the main unit.
The European motorways standards are also taken into consideration to determine external dimensions when designing the Mobile Concrete Plant; thus, the unit is suitable for transportation to distant countries by road with a special permit. The mobile plant can be easily shipped to any countries by means of maritime transport. The main unit is shipped as an open load but other units are easily placed inside the container.
Units required for Mobile Concrete Plant
Other units required for the mobile concrete plant, i.e. cement silo, cement conveyor, cement silo filter and aggregate pre-feeding system, can be transported with standard trucks or containers. In Mobile Concrete Plants, aggregate hoppers are generally square type hoppers where two aggregate chambers are placed on one side and the other two aggregate chambers on the opposite side.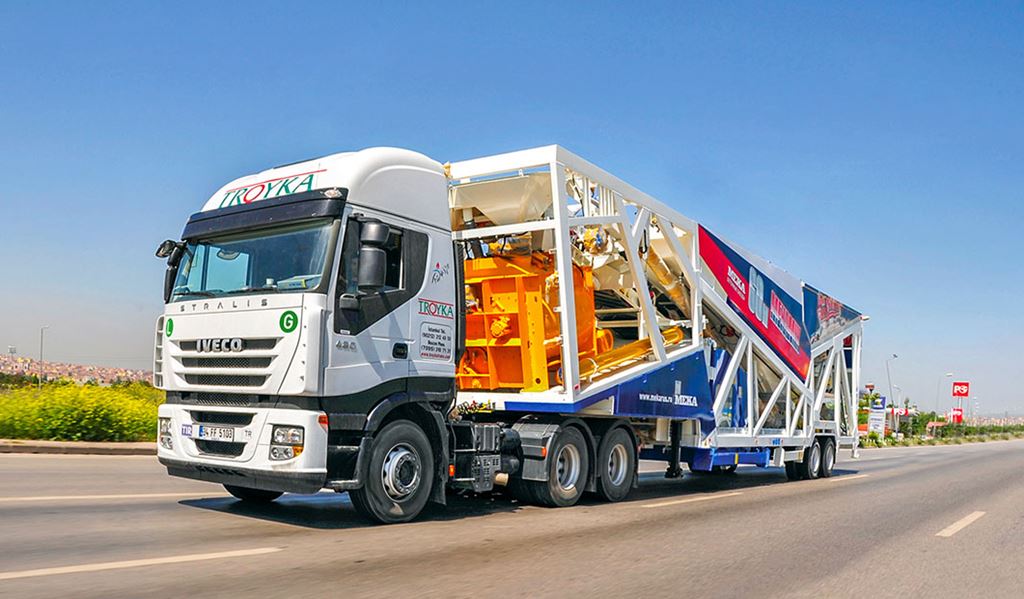 Aggregate hopper can be filled through a concrete/steel aggregate loading ramp or more effectively through Aggregate Pre-Feeding System. There are two types of Aggregate Pre-Feeding System.
1- Compact Aggregate Pre-Feeding System ( Can be shipped via a Truck or Container )
2- Mobile Aggregate Pre-Feeding System ( Just like the Mobil main unit, axles and wheels are placed at the back and it can be transported by a truck tractor )
In high capacity mobile concrete plants, 4-chamber linear type ( in-line type ) aggregate hoppers are used. Figure 5All MEKA mobile plant equipment necessary for the operation of the batch plant is installed on the main chassis and is being transported on it.
Mobile concrete plant installation time
The electricity cabling and water and pneumatic system piping on Mobile Concrete Plants are generally installed during the production of the plant at the factory. This allows to save considerable time at the place of installation and shortens the installation time of the mobile plant. A stationary concrete plant with medium capacity can be installed in 14-21 days, whereas the mobile concrete plant can be installed in 7-9 days.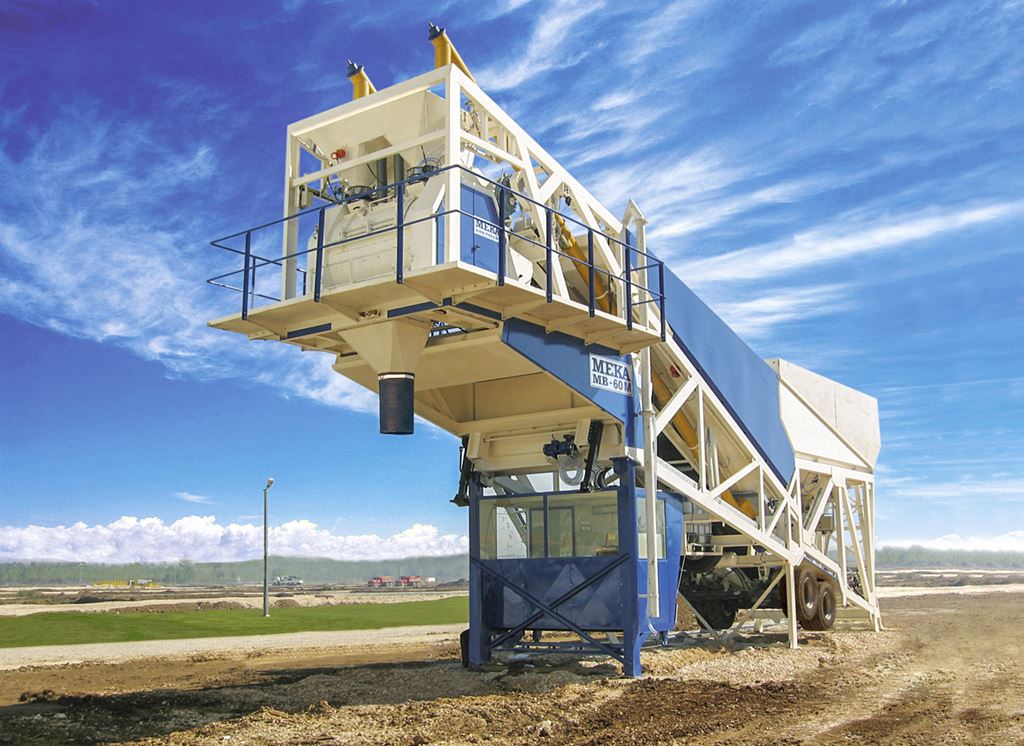 A thin and flat concrete basement is usually enough for Mobile Concrete Plants. There is no need for concrete foundations with a certain height as required for Stationary Concrete Plants. This provides the user with a significant advantage in terms of concrete foundation costs that should be borne for each installation.
Mobile Concrete Plants are equipped with weighing conveyors and weighing hoppers of high weighing precision. All concrete production process is carried out with a fully automatic and computerized PLC control system. With a SCADA based concrete production software, concrete can be produced in accordance with the concrete recipe, and all parameters can be controlled and recorded. The concrete mixer with high weighing precision and high technology directly affects the quality of concrete.